GREEN TEA MATCHA BALANCING TONER – FOR A YOUTHFUL AND VIBRANT SKIN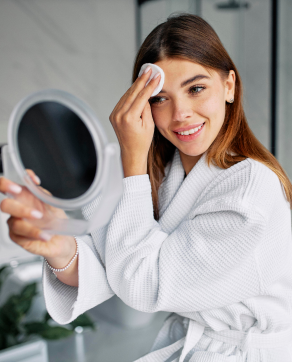 Everyone aspires for a youthful, healthy skin. But over time, our skin tends to lose its elasticity. Dry skin, fine lines, and open pores are some signs of an aging skin. While aging is inevitable, it can, however, be delayed, and the youthful aura of the skin be maintained.
There are a number of products available that promise beautiful and wrinkle-free skin. And indeed, it is true that the face is the first part of the body that meets the eye, and a vibrant, energetic face can work wonders in terms of the first impressions people make of us.
 In a market that is replete with products promising eternal youth and beauty, carefully selecting your skincare products is of utmost importance. Haste or negligence in choosing the correct products can lead you to pay a heavy price. Many beauty products are made of synthetic ingredients, which can be harmful to the skin. They can cause rashes or skin allergies, leading to permanent skin damage. Hence it is essential to select beauty and skincare products carefully and ensure that all ingredients are natural and skin-friendly.
Skin Toners - An Easy Step to Enhance Your Skincare  Regimen
Skin toners help in keeping your skin hydrated, maintain its elasticity and ensure a youthful radiance to your face. They also reduce breakouts and help the skin restore and heal itself. 
Our facial skin has a slightly acidic pH, and toners help maintain it. Using a gentle, soothing toner removes oil and dirt from your skin, and helps unclog pores, thus promoting an oil-free and acne-free skin.
Green Tea MATCHA Balancing Toner – For a Fresh Radiant Face
Once Upon A Tea has a wide range of skincare products and we are devoted to providing the best skincare products with the promise of being safe, natural and skin-friendly. 
The Green Tea MATCHA Balancing Toner keeps your skin hydrated while restoring its natural pH balance. It has a cooling and soothing effect on the skin and keeps you looking fresh and vibrant throughout.
Our Balancing Toner is packed with a wholesome concoction of completely natural ingredients, that is completely safe for your skin, and just a spray promises a healthier, hydrated, supple skin.
Green tea -

 

Green tea protects against harmful free radicals, and has an anti-aging effect on cells. It stimulates skin micro-circulation and promotes skin tone and health.
Cucumber and peppermint waters –Cucumber and peppermint waters keep your skin hydrated and has a cooling effect. Neutralizes external impurities such as dirt and grime.
Aloe vera –

 

Aloe vera soothes and calms the skin. It helps close the pores and tighten cell gaps, thus keeping the environmental contaminants and impurities from penetrating the skin.
We at Once Upon A Tea are committed not only to healthier, beautiful skin but also environmentally friendly practices. The Green Tea MATCHA Balancing Toner is alcohol-free, gluten-free, paraben-free, and is made of 90% organic ingredients.
Use our Green Tea MATCHA Balancing Toner on a regular basis for soft, glowing skin and a resplendent, beautiful you.
---